Photographer Kati Kalkamo – www.katella.fi
---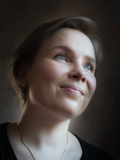 I am a photographic artist based in Naantali, Finland, and I have photographed for over 25 years.
I am primarily self-taught photographer, and I was swept away by photography at age of 12 as I bought my first compact camera. There wasn't much to be said about my first camera, except that it was bright red, and it was a start of a lifelong passion and education towards a career as a photographic artist.
I have developed my photographic style and philosophy consistently and with determination throughout all these years. Addition to my style has come from studies of art history, cultural history and visual arts program and from artisan degree in clothing in 2006.
Primary subjects in my artwork are nature, details in landscape and different materials and objects found around.
My greatest passion is empowering nature photography.  I bring forth the empowering impact of nature and the perspective on life offered by nature. I also combine text, such as quotations, with my pictures.
I attempt to tell about world's uniqueness, frailty and evanescence of a life that gets easily passed by when pursuing always more, always newer and always better.
My stock photos are sold by plainpicture photo agency. I am a member of Co-operative Action of Culture Turku, and I have participated in group exhibitions of Co-operative Action of Culture Turku. I have also worked as a photographer under my own business name.